MediClean Air Duct Cleaning has been successfully cleaning residential and commercial duct systems in the Atlanta metro area since 1990. Our job pricing has been the same since the company began.

Our goal in pricing is to allow you to know exactly what the job will cost you before we arrive at your home.

All houses are different sizes, and therefore some houses require larger heating and air systems than do others. Our simple pricing structure allows you to count the vents in the home and know exactly what the cost will be before our technicians arrive.

Once our technicians arrive, a thorough vent count will be taken. The vent count determines the price and this price will be determined by the actual number of vents.

Our duct cleaning is a full service cleaning and our pricing is comprehensive in that all of the services are included for one price. A list of our services can be viewed on the process page.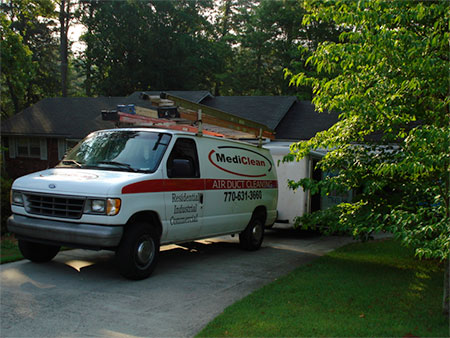 MediClean serves the metro Atlanta market. The prices shown below are good for any home in the metro area. While we do work in some areas outside of the metro area, these areas may be subject to a travel charge.
A system is defined as one furnace and the ducts that are associated with that furnace.
HOME | OUR PROCESS | PRICING STRUCTURE | CONTACT US | DISPATCHERS LOGIN | SITEMAP